A Little About Me:
I am a Veterinary Nurse turned Self-Taught Lampwork Artist And Jewellery Designer :)
I am also an absolute perfectionist. I have been told this is reflected in my beads from my lovely beady friends. I aim to produce beautiful handcrafted art glass beads for you to create with. There is no excuse for poor quality when you are selling to customers.
Growing up in North Cornwall, living next to the sea has been an inspiration and has influenced my art greatly. The gentle flow of sea lapping the sand to the waves crashing on the rocks during storms.
I now live in beautiful North Yorkshire, (with my gorgeous cats!) where I create beads in my studio.
The Glass I Use Is COE (Co-Efficient Of Expansion) 104 - Double Helix, Effetre (Moretti), Lauscha, Vetrofond, Creation Is Messy (CIM) These Glasses Are Italian, German Or American. In my beads I use alot of reactive glass and pure silver which creates wonderfully organic and metallic designs.

The Glass Is Melted Over A Gas Fuelled Torch.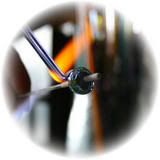 I create my beads with rods of glass over a Nortel Burner Torch. The Torch Is Duel Fuelled, Running On Propane and Oxygen. My Beads Are Then 'Annealed' In A Digitally Controlled Paragon SC2 Kiln for strength and durability.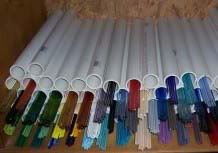 The Beads Are Thoroughly Cleaned, Temporarily Strung Or Made Into Jewellery.
Best Of All I Love Making Them...Let Me Know What You Think.
Bead Care
I love the reactions that can be produced by glass and metals, in particular silver.
I have found that from time to time they do with a rub over with a specialist silver polishing cloth. The one I use is a high quality cloth from Town Talk
I usually buy them from ebay or under £5 (including delivery)

PLEASE NOTE BEADS ARE A CHOKING HAZARD - DO NOT GIVE TO CHILDREN